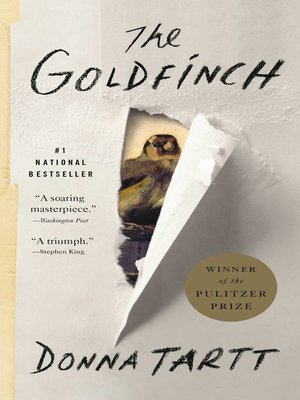 It's nice to have friends who know what books you'll like. A few years ago, my friend Kelly gave me her copy of The Goldfinch after she read it. She said I'd like it. A few months ago, my friend Nicole read it and also said I'd like it. They were right.
Despite this winning the 2014 Pulitzer Prize, a number of notable critics (and amateur critics) panned it for being superficial, overly long and over-hyped. I agree with some of their criticisms. At 780 pages (32 hours as an audiobook), it's a commitment. And at the very end, Tart dredges some of the more interesting themes to the surface and waves them around in a few pages of heavy-handed dialogue. It's like a preemptive defense against the "superficial" criticism–If you've gotten this far and haven't picked up on it, here's what the past 750 pages have been about.
It's a little too on the nose for me, and not really necessary. I don't even think it's necessary that a big book has a big theme. I just want it to be compelling. I need good characters or an engrossing plot. And in both regards, The Goldfinch delivers.
Theo Decker is a 13-year-old boy visiting the Metropolitan Museum of Art in New York with his mother when a bomb goes off. His mother is killed, and in the chaos of the moment, a dying man gives Theo a ring and tells him to make off with a painting, The Goldfinch by Dutch master Carel Fabritius.
Over the next 14 years, the painting is both a burden and a cherished possession for Theo as he is shuffled from place to place—first in with a schoolmate's family, then off to Vegas with his deadbeat father, then back to New York, where he lives with and become the apprentice to a furniture restorer named James Hobie—the partner of the man who gave Theo the ring in the museum.
Other characters move onto and off of stage—a girl Theo loves from afar, Pippa (a nod to Pip from Great Expectations?); a lovable and completely unhinged Ukrainian émigré named Boris (a "chaotic good" character if there ever was one); a high-society girl who becomes Theo's fiancé out of convenience, mostly. It is a parade of characters that, again, some critics found to be superficial and stock, but that I mostly enjoyed.
Tart also brings us in and out of some fascinating worlds as we tag along with Theo—the aforementioned world of furniture restoration; the world of high-end art collection; upper crust New York society; and at least two versions of skeezy criminal undergrounds (this last one the least convincing).
I switched back and forth between the audio and physical books—something I rarely do—sometimes re-reading moments I'd heard or vice versa, because I just flat-out enjoyed spending time with these characters. Yes, Boris the Ukrainian wild card is a bit over-the-top, but that's what makes him so fun. Yes, Pippa sometimes seems like the distant love interest from a thousand coming-of-age stories, but I grew genuinely hopeful in the moments she popped back into Theo's life. And yes, the speech James Hobie gives at the end of the novel, about the significance of art and the personal connection people can have with a masterpiece, is a tad overcooked. But by that point, I liked Hobie so much, and I'd argue that his monologue is in character—he's an erudite and artful man with so much passion about the subject that when he starts talking, he rambles on in an excited, semi-academic manner. Describing the way a piece of art connects with a person:
"It's a secret whisper from an alleyway. Psst, you. Hey kid. Yes you…four hundred years before us, four hundred years after we're gone…a really great painting is fluid enough to work its way into the mind and heart through all kinds of different angles, in ways that are unique and very particular. Yours, yours. I was painted for you. Oh, I don't know, stop me if I'm rambling."
We haven't necessarily waited 750 pages to get this lecture, but he's waited his whole life to give it. 
And in all the stuffy criticism about superficiality of themes, stereotypical characters and pretension, I kept going back to one counter-argument: Yeah, maybe… but this book is so fun! Is it a timeless masterpiece, like the eponymous painting? Probably not. Is it wholly original? It fits squarely in the coming-of-age genre, so is not without precedent. But being like a modern Dickens or early John Irving isn't a bad thing. I don't remember where I heard someone say that you don't see many novels like this anymore, which is true. And it's a shame. Because as my two friends who recommended this to me know, this is the kind of novel I dig.